Améliorer le rendement filet
Le rendement filet est devenu un facteur de rentabilité économique déterminant pour l'industrie avicole. Une stratégie adéquate en matière d'ingrédients fonctionnels peut être un outil décisif pour soutenir les progrès réalisés en vue d'améliorer ce paramètre au cours des dernières décennies. Aromabiotic® Poultry apporte un mélange unique d'acides gras à chaîne moyenne (AGCM) qui contribue à garantir le rendement filet et à améliorer la qualité des carcasses.
Rendement filet: orientation du marché et pertinence économique
Dans les pays européens et sur la plupart des marchés occidentaux, l'industrie de la viande de volaille est largement influencée par la demande de carcasses et de découpes de haute qualité – que ce soit pour un usage domestique ou pour la transformation industrielle – contrairement à certaines parties du monde où les animaux vivants conservent une grande importance. Ces spécificités conduisent à des améliorations significatives des principales caractéristiques associées aux carcasses de poulet, comme le poids ou le rendement de la carcasse, qui résultent essentiellement des progrès réalisés par la sélection génétique. Le tableau 1 donne un aperçu de l'évolution du poids et du rendement filet des poulets de chair de 1957 à aujourd'hui. L'augmentation remarquable du rendement fileta contribué à répondre à ces demandes du marché.
Tableau 1 : Exemples de rendements filet en pourcentage du poids vif chez les poulets de chair mâles (A) et femelles (B) de 1957 à 2019. (Adapté de Petracci et. 2015)
Le poids du filet a été amélioré de près de 50 % depuis le début du siècle et représente maintenant plus de 22 % du poids vif des poulets de chair à l'âge d'abattage. Par rapport aux autres parties du poulet, la valeur des filets sur les marchés de certains pays peut valoir deux fois plus que les carcasses entières et 5 fois plus que d'autres morceaux tels que les cuisses. Par conséquent, plus de 60 % de la valeur d'une carcasse de poulet peut être attribuée au filet pour les abattoirs qui produisent des découpes.
En outre, la plupart des consommateurs occidentaux préfèrent le filet aux autres morceaux de poulet, en raison de son profil nutritionnel favorable (faible teneur en graisse) et de ses propriétés organoleptiques. L'amélioration du rendement du filet et d'autres caractéristiques de qualité de la carcasse, comme la teneur en graisse, peut être un facteur important pour soutenir la rentabilité de l'industrie de la volaille.
Rendement filet: orientation du marché et pertinence économique
Plusieurs stratégies peuvent contribuer à l'amélioration du rendement de la filet, soit en optimisant les facteurs génétiques, soit en influençant l'environnement. Ces stratégies comprennent la supplémentation en ingrédients fonctionnels. Un essai a été réalisé en 2019 en République tchèque pour évaluer l'effet d'Arombiotic® Poultry, un mélange soigneusement équilibré et breveté d'AGCM purifiés, sur les caractéristiques de la carcasse de poulets Ross 308 élevés jusqu'à 35 jours d'âge. Les filet ont été pesés sans la peau et exprimés en pourcentage du poids total pour les mâles et les femelles.
La supplémentation en Aromabiotic® Poultry a amélioré de manière significative le pourcentage de filet (+1,1 %, P < 0,05) et réduit le pourcentage de graisse abdominale (-0,2 %, P<0,05) chez les femelles. Chez les mâles, on a observé une amélioration numérique du rendement de la filet (+0,4 %) et une réduction numérique du rendement de la graisse abdominale (-0,07 %).
Ces améliorations du rendement filet pourraient correspondre à une augmentation des revenus allant jusqu'à 6 centimes d'euro par poussin, en fonction des prix du filet. En outre, la diminution du pourcentage de graisse abdominale a un effet positif sur la qualité de la carcasse des animaux à croissance rapide. Avec Aromabiotic® Poultry, les AGCM purifiés sont donc des ingrédients de choix pour augmenter le rendement de la filet tout en réduisant le dépôt de graisse abdominale.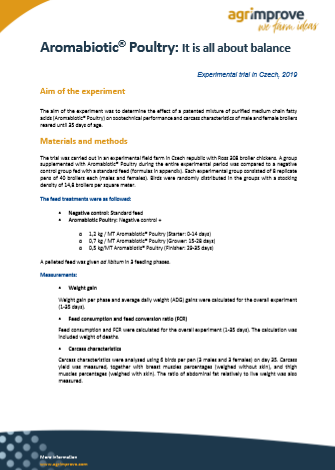 The aim of the experiment was to determine the effect of a patented mixture of purified medium chain fatty acids (Aromabiotic® Poultry) on zootechnical performance and carcass characteristics of male and female broilers reared until 35 days of age. The trial was carried out in an experimental field farm in Czech republic with Ross 308 broiler chickens. A group supplemented with Aromabiotic® Poultry during the entire experimental period was compared to a negative control group fed with a standard feed (formulas in appendix). Each experimental group consisted of 8 replicate pens of 40 broilers each (males and females). Birds were randomly distributed in the groups with a stocking density of 14,8 broilers per square meter.
Want to know more? Please fill out the form below and download the full trial report.
Votre expert Agrimprove
Vous avez une question ou souhaitez un conseil personnalisé ? Votre expert Agrimprove est prêt à vous aider. Contactez-le directement ou demandez à être contacté à votre convenance.