Melhorando a qulidade da carne
reduzindo os efeitos

do estresse oxidativo
As empresas de processamento de carne e varejistas em todo o mundo têm lidado com uma carne de qualidade abaixo do padrão. Permitimos aos nossos clientes reduzir os efeitos do estresse oxidativo, resultando em um reforço da qualidade da carne cientificamente comprovado. O resultado: carne suína suculenta e tenra com um pH consistente, com menos descoloração e menor perda de líquidos, levando a um produto final mais atraente com tempo de prateleira.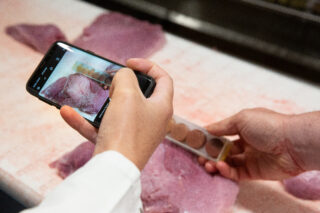 Um mercado de compradores
A indústria de alimentos é, mais do que nunca, um mercado de compradores em grandes partes do mundo. Os consumidores críticos de hoje – e, consequentemente, os varejistas que visam esses consumidores – esperam que seus produtos alimentícios sejam tudo o que desejam: seguro, saudável, saboroso, produzido de forma responsável e acessível. Um conjunto de características difíceis de combinar, mesmo para o produtor mais ambicioso.
Ainda assim, nós da Agrimprove acreditamos que, combinando ciência e parceria, as respostas estão próximas. Ao melhorar a maneira como alimentamos nossos animais em parceria em toda a cadeia da agroindústria, estamos confiantes de que todos podemos fornecer a carne e os laticínios que os varejistas desejam colocar em suas prateleiras e que os consumidores querem colocar em seus pratos.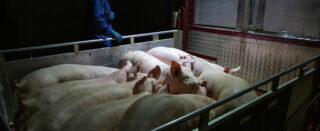 Focar em
qualidade alimentar
Melhor para o animal, melhor para nós
Os animais estão sujeitos a estresse em vários pontos do seu ciclo de vida, especialmente em ambientes altamente produtivos. À medida que o corpo reage a esse estresse, os processos metabólicos celulares aumentam, levando à oxidação e a uma alta produção de radicais livres nocivos. Isso significa que, se não for adequadamente gerenciado, o estresse pode não apenas ter um impacto negativo na saúde e no bem-estar dos animais, mas também na qualidade da carne com pH inadequado, descoloração e capacidade reduzida de retenção de água, afetando negativamente a suculência, a maciez e o prazo de validade da carne.
De mais de 8.000 polifenóis à base de plantas, os especialistas da Agrimprove foram capazes de identificar os mais eficazes em termos de propriedades antioxidantes e os combinaram em uma solução de otimização de alimentos que neutraliza os efeitos do estresse oxidativo no tecido muscular de seus animais. O resultado: uma integridade celular radicalmente melhorada que mostra melhores resultados do que outros tratamentos conhecidos.
Com apenas ingredientes à base de plantas, podemos ajudá-lo a produzir carne suína suculenta e macia com pH consistente, perda mínima por gotejamento e descoloração.
Say 'yes' to improvement
We are looking forward to hearing from you. Get in touch to exchange ideas about how we can optimize your operations together.