Vitafibra receives first place in 'Sustainable Innovative Solutions' at Hungary's Animal Husbandry and Agriculture Days
Congratulations to Royal Agrifirm Group's Hungarian Team for earning the first place award at the 29th Great Plain Animal Husbandry and Agriculture Days in the category 'Sustainable Innovative Solutions'.
On 11 April 2022, in Hódmezővásárhely, Hungary, the essay submitted by the Agrifirm team titled "Vitafibra, the right solution for decreasing agglutination effect and infection for reduced antibiotic usage and ZnO-free animal feeding" was recognized from 17 category applicants for its work as a Sustainable Innovative Solution. Vitafibra is a molecular fiber fraction that prevents the overgrowth of pathogenic bacteria (E. coli and Salmonella) through an agglutination mechanism and by blocking TLR receptors. As a result, the animals are in better health, which helps reduce the use of ZnO and antibiotics.
The product featured in the essay, Vitafibra, is part of Agrimprove, Royal Agrifirm Group's functional feed ingredients brand. Agrimprove supports farmers worldwide by developing ideas in animal health and nutrition and growing these ideas into tangible improvement strategies based on feed optimization.
Returning to celebrate in person following the pandemic, the awards from the Hungarian agriculture community were designed by local artist B. Kovács Emőke in bronze-alloy. The certificate and award were collected on behalf of Royal Agrifirm Group by Attila Tasnádi, Formulation and Swine Product Manager.
We are proud of our team and the work they do to support a sustainable agriculture industry.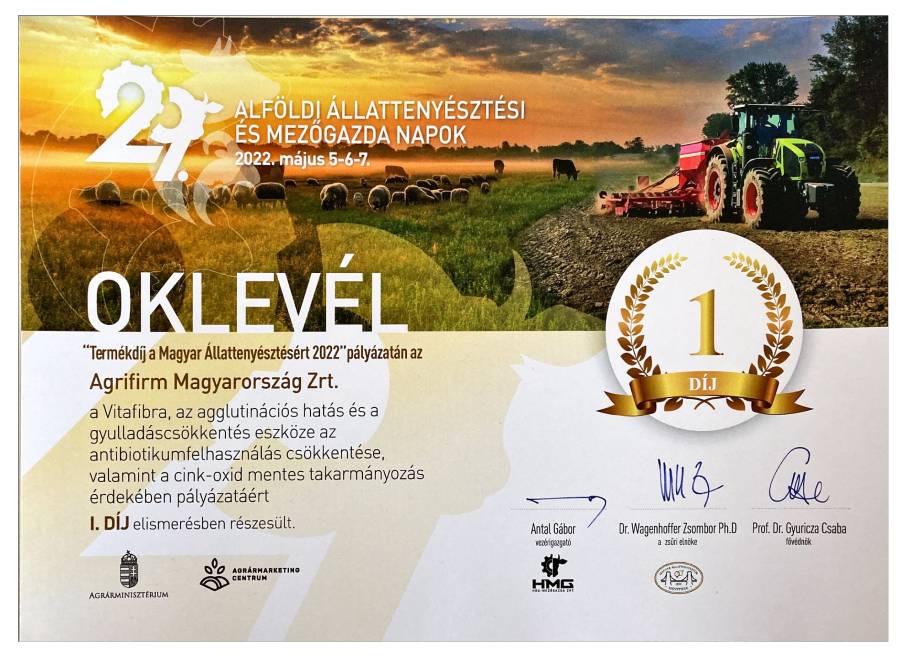 THIS MIGHT ALSO INTEREST YOU
Ready for improvement? Try one of our suggested solutions with a proven added value.