Pre-weaning mortality:
turning sow health into
piglet performance
Pre-weaning mortality is one of the most prominent causes of production loss, leading to very high economical damages in the pig industry. Moreover this topic attracts increasing attention in discussions around animal welfare. Looking at the causality for this early mortality, increasing viability and immune-protection of piglets are critical to reduce this loss significantly.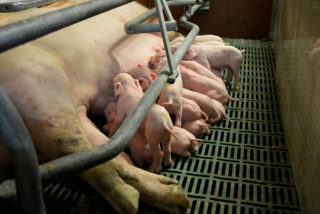 The sow is the key
Nature itself provides a solution to protect piglets for these very early challenges. This solution is called colostrum and is used by the sow to transfer immunity directly to its progeny right after birth. However throughout the years litter sizes have increased a lot while quality nor quantity of the produced colostrum followed this rise, leading to less colostrum per piglet with an increasing pre-weaning mortality as a logic consequence. Besides this every farmer invests a lot in sow vaccines to ensure piglet protection against a variety of different pathogenic threats. But attention towards the quality of the sows' immune reaction and ability to produce colostrum is too often neglected. Exactly that attention is what we focused on while developing this idea!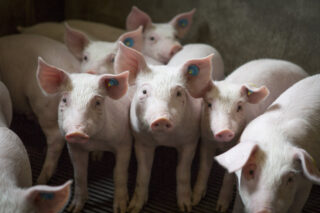 Focus on the sow to give piglets a head start
After discussing intensively with customers on possible ways to improve their production parameters it became obvious that a lot of the current strategies were focusing on solving problems rather than preventing them. Therefore a new approach was needed. Boosting the sows' immunity to increase survivability rates of the piglets is the key focus of C-Vita.
Thanks to its unique MCFA-composition, C-Vita empowers white bloodcells which are essential in the production of antibodies needed to produce high quality colostrum. This way the use of C-Vita will not only lead to a healthier sow herd, it will at the same time significantly reduce the figures of pre-weaning mortality.
With C-Vita, sows are offering their piglet the head start they need to become a healthy and well performing animal.
Now what's the use of producing more piglets if you can't keep them alive?
Solutions worth considering
Ready for improvement? Try one of our suggested solutions with a proven added value.
Your agrimprove expert
Do you have a question or want personalized advice? Your Agrimprove expert is willing to help. Reach out directly or request to be contacted at your convenience.
Rob Goedegebuure
Regional Sales Manager Agrimprove EMEA North
Do you want to know more?
Leave us a message or contact your local Agrimprove expert.
We will get back to you with more detailed information.