Helping beef
survive the heat
Hot summers are becoming a commodity. Due to global warming, periods of high temperatures are a reoccurring phenomenon. In combination with high humidity, high temperatures can cause heat stress in animals. To cope with higher temperatures and to maintain the quantity and quality of meat products, it is important to focus on managing the impact of heat stress on beef cattle.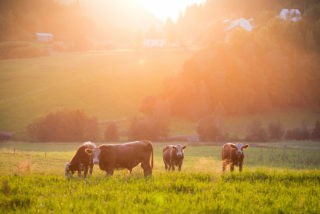 Sensitivity to heat stress
Heat stress has considerable effects on cattle welfare and production. Both dairy and beef cattle can suffer from high temperatures. In beef cattle, heat stress impairs the reproductive performance of nursing cows, decreases the growth rate, and harms meat quality in growing/finishing animals. The impact of heat stress can be observed in an increased respiratory rate, decreased feed intake, and higher frequency of drinking.
A calculated understanding
The amount of stress a cow experiences from heat depends on both temperature and humidity. The sensitivity to environmental circumstances is expressed with temperature-humidity index charts and differs per animal and system. Heat stress in beef cattle is usually considered less severe than in dairy cattle because—due to their lower metabolic rate and lower body heat production—they typically have a higher average temperature-humidity index (THI). Dairy cows experience heat stress at a THI of 68, whereas beef cattle suffer at a THI of 78–80 (Summer et al., 2019). Nevertheless, both dairy and beef suffer from the negative effects of heat stress.
Although lactating dairy cows are more sensitive to heat stress—and the impact is more measurable through reduced milk production—beef cattle suffer just as much.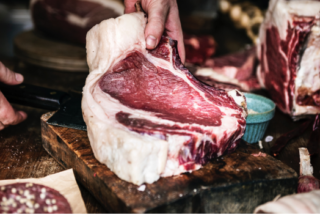 Coping with heat stress
Stress manifests itself by producing free radicals (ROS) that damage body tissues. Therefore, it is extremely important to combine different strategies to prepare for the negative effects of ROS. Like many biological processes, the animals' natural capability to cope with heat stress can be supported with good management and by feeding the right nutrients. Safe and sustainable ingredients, such as medium-chain fatty acids and natural phytogenic compounds, can influence the body's response to its environment. Detecting the signs of heat stress as early as possible is essential to preserve the health and production of beef cattle.
Contact your agrimprove expert