Calves are the future
Secure the cow's longevity
Calves are the future of cattle farming. Ensuring good health during the rearing period is very important if you want to unlock the animal's full potential to produce large amounts of milk or to grow fast and efficiently in case of beef animals.
The first period of a calf's life is very challenging. But if you manage to give them a head start without setbacks during the rearing period, they will do much better than those who experience any form of stress. This sounds obvious, but the solution is not for the taking.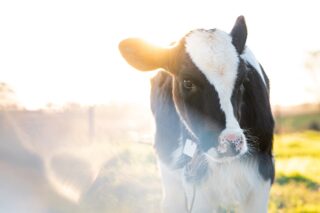 The importance of gut health
Over 2000 years ago, Hippocrates suggested that "all disease begins in the gut". Even though science has proven that this statement is not 100% correct, evidence shows that many diseases do have a very strong link with the intestine. Keeping the intestine in good condition is therefore of utmost importance.
At birth, the intestines of a calf are completely sterile. To absorb nutrients after birth, the intestines need to mature at a rapid pace. This is a very critical period, as the animals are sensitive to all kinds of pathogens during this gut colonization process. The main veterinary threats in young calves (up to 6 months) are related to the intestinal and respiratory track. Calves suffering from these challenges can stay behind in development and sometimes even die. Prevention is therefore of utmost importance.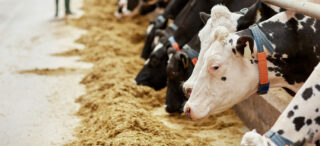 Supporting gut health with fibers
Since decades nutritionists all over the world are using fibers in animal nutrition to regulate gut health. Besides steering rumen development of the young calf, these dietary fibers can influence passage time in the stomach, the satiety feeling of the animals and alter the viscosity of the feed.
Certain fiber and sugar combinations also have prebiotic aspects. Beta-glucans, MOS, FOS, XOS and more recently also GOS products show nice effects on modulating the microbiota by positively stimulating the growth of some of the favorable bacteria groups. By feeding the good endogenous bacteria, gut health improves and indirectly makes animals healthier.
Agrimprove goes beyond the regular fiber approaches. By not only focusing on the physical aspects of feed, nor stimulating favorable bacterial growth, but also by safeguarding gut health and counteracting pathogenic bacteria and their toxic metabolites such as endotoxins. By agglutination of pathogens, specific fiber fractions can prevent diseases in calves and lead to a better resistance and resilience.

Good gut health gives calves the head start they need. This will not only lead to better performances in the rearing period, but will be the basis of a generally healthier adult cow with thriving performance. Extending the cow's longevity via unlocking the full potential of the calf could have a significant impact on the sustainability of dairy production.
Cows that are healthy and well taken care of live longer. In fact, this already starts at the beginning. A healthy calf forms the basis of a strong and high performing adult cow.
Solutions worth considering
Ready for improvement? Try one of our suggested solutions with a proven added value.
Your Agrimprove expert
Do you have a question or want personalized advice? Your Agrimprove expert is willing to help. Reach out directly or request to be contacted at your convenience.