Meet




Khayrat




Al-Shamal
Our customer, Khayrat Al-Shamal, located in the East of Jordan, is a fine example of the local poultry industry's development. Ranked among the top 5 fully integrated poultry companies in the country, Khayrat Al-Shamal has built a solid reputation for high-quality chicks, table eggs, poultry feed and poultry meat products in the domestic market as well as in neighbouring countries.
Dr. Mohammad Hwamdeh, the company's technical manager, oversees around 30 farm sites as well as the welltrained technical staff. He explains how this family-owned business has ventured on a growth path based entirely on a consistent quality focus.
Feed optimization as a growth engine
for quality-focused poultry husbandry
In the last decade, the poultry and egg industry in the Kingdom of Jordan – and in the entire Middle East – is characterized by rapid expansion and technical evolution.
In Jordan, as in the rest of the world, poultry is one of the most successful and fastest growing areas of industrial meat production.
With poultry being the main ingredient of many traditional dishes, chicken meat and eggs are the most important source of protein for millions.
With an annual production capacity reaching 240,000 tons of poultry meat and 1 billion table eggs,
Jordan is building an increasingly strong position and reputation as a poultry producing country.
In addition to its direct contribution to the national economy, the Jordanian poultry sub-sector also stimulates
investment and job creation in related activities such as feed mills, hatcheries, processing and packaging facilities.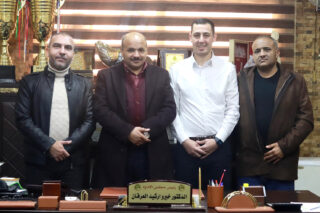 A fine example of full integration
Khayrat Al-Shamal can look back on a steady growth path since its foundation by Haj Arshid Hamad Arqan in 1982. Today, with a flock of 250,000 breeders, 200,000 layers and 2.5 million broilers the company has a 450,000/week capacity single-stage hatchery, a 70,000 pc/day processing plant, a meat processing factory, and a feed mill producing 7,000 metric ton/month. In addition to its B2B activities – such as feed and broiler chick sales to poultry producers in Jordan, Saudi Arabia and Iraq – the organization also supplies broilers, table eggs, and meat to supermarkets and restaurants across the country. The company also has its own direct-to-consumer sales channel, with a growing retail chain of currently 50 shops in major cities across Jordan.
"Khayrat Al-Shamal has been managed by the Al-Arqan family since 1982. Today, we are a leading reference for broiler chicks and one of the largest hatcheries in the MEA region."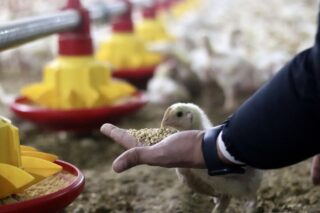 Dedicated to best-practice management
From the very beginning, Khayrat Al-Shamal has worked with poultry based on a crystal-clear quality vision: to breed strong and resilient chicks with a high degree of immunity and to maintain high levels of quality and care from farm to fork. Not only is Khayrat Al-Shamal dedicated to applying the newest techniques and best practices in terms of farm and production management, they have also invested in in-house laboratories to continuously monitor meat quality and safety. This resource allows them to continuously monitor drinking water quality, mitigate feed mycotoxin risk, and track many more factors that contribute animal health and product quality.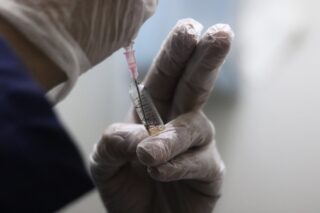 Feed optimization as a critical success factor
With 16 years of experience in the poultry industry, Khayrat Al-Shamal's technical manager, Dr. Mohammad Hwamdeh, joined the company 4 years ago and brought a solid veterinarian background. For him – in addition to good management and working with a well-trained staff – feed is the most determining factor for quality and success in the poultry business. While feed cost represents a big part of the company's operating cost, it is also a powerful tool for optimization and risk reduction. With the development of precision feeding and a strong focus on the added value of additives and supplementations, the past decade has shown a real revolution in this field of expertise.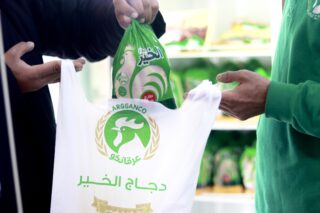 Ideas for improvement all along the value chain
The successes obtained with breeder feed optimization has led Dr. Hwamdeh to explore more ideas for improvement throughout Khayrat Al-Shamal's production chain. He and his team do this in close collaboration with Agrimprove, applying a carefully considered one-improvement-at-a-time approach. With the support of our local Agrimprove experts, every adjustment is carefully prepared, implemented and monitored. Only when a feed refinement has proven its undeniable value, it is kept in the formulation and the team moves on to the next trial. Khayrat Al-Shamal's professional set-up allows for strict (and partly digitalized) measurement of the feed optimization's impact on quality and performance. Feed intake, FCR, body weight and meat quality are the main evaluation criteria.
"By controlling the entire production process from hatchery to further processing, we can deliver value to farmers and consumers alike.
Khayrat Al-Shamal & Agrimprove:
a healthily growing relationship
For the last 3 years, Khayrat Al-Shamal has partnered with Agrimprove and can count on the dedicated support of Agrimprove's technical sales manager Kamal Abudayyeh. Working closely together with Dr. Mohammad Hwamdeh, Kamal has successfully introduced Agrimprove solutions such as M-prove and Vitafix intro Khayrat Al-Shamal's feeding strategies.
In the future, trial runs will be set up with additional solutions such as Shellbiotic. From a broad and knowledge driven perspective, the partnership will remain focused on supporting Khayrat Al-Shamal's ambitious vision of excellence and growth.
Want to farm ideas together?
We are looking forward to hearing from you. Get in touch to exchange ideas about how we can optimize your operations together.